Want to check in on the activity at the airport? Is the tow plane there?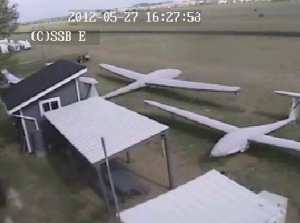 SSB members can access streaming cameras at the airport using their smartphone.
To install the software and access the cameras follow these instructions:
In the Apple App store of Android Play store search for 'swannview' and install the 'SwannView Link' application.
Start the app and you will be prompted to Add New Device

Configure the device as follows:
| | | |
| --- | --- | --- |
|  Device Name: |  SSB Cameras |   |
|  Connect Mode: |  Host |  Select IP/Domain  |
|  Host:  |  ssbshack.swanndvr.net |   |
|  Port: |  9000 |   |
|  User Name: |  ****** |  See below |
|  Password: |  ****** |  See below |
Notes: The username and password are available on a notice in the SSB shack.
The time displayed on the system is wonky as it doesn't seem to want to connect to a ntp server.
The camera system was provided at no cost to the SSB by the following:
Gary Reuter
Bob Caldwell
Ivan Jaszlics
Charlie Gillespie
Scott Westfall
Colin Barry
The original DVR perished but a replacement unit has been configured.