Airport Days At Boulder Airport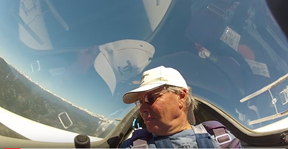 The Soaring Society is participating in Boulder's bi-annual Airport Day and Open House on Saturday 6/18/2016 at Boulder Municipal Airport.
This is a free event, from 9 a.m. to 3 p.m. On display will be a high performance glider operated by the club along with World War II planes, firefighting aircraft, helicopters, antique airplanes and more.
For more information click here.
Here's a video captured over our club president, Elliot Crawford, taking a local reporter for a glider flight.